We are one day away before the final climax on a mission that started over 10 years ago: ESA's Rosetta mission.
If all goes well, tomorrow Rosetta will become the first satellite to ever orbit a comet  (67P/Churyumov-Gerasimenko). If that is not enough, in November there will be another first: the landing of the Philae probe on the icy surface of the comet.
Since the #RosettaWakeUp in January this year, controllers at ESA-ESOC and the scientific / industrial support team have been working hard at maneuvering Rosetta into its final path to rendezvous (and escort) the comet.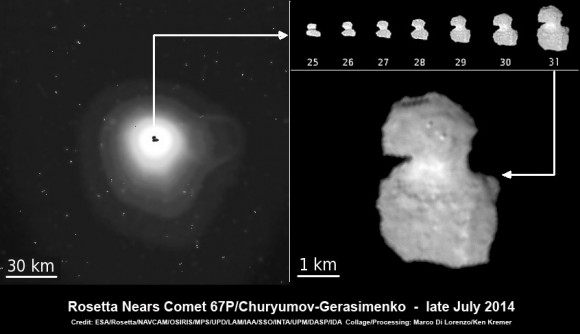 Image Copyright ESA
The SSBV team will be anxiously following the rendezvous event tomorrow and on behalf of the whole company, we wish the ESA team all the best in completing the final tasks before this historic event !
SSBV was actively involved in the verification of elements of the spacecraft and its instruments before launch. Activities included the provision of equipment for the validation and test of Rosetta's subsystems responsible for communication and Telemetry  /Telecommand, Ground-station compatibility testing and close co-operation with almost all the international science teams that use(d) a 'Rosetta simulator' developed and provided by SSBV to develop and test the instrument interfaces and data exchange with the satellite platform.
For more information, consult the ESA website. You can also follow the special Rosetta Twitter account: @ESA_Rosetta